A giant, a mastodon, a "bus", the biggest fish in the world…. The whale shark is described by multiple superlatives that attempt to represent its massive and graceful appearance. It's hard to even imagine it before you see it. But when it is in front of you, time stops for a moment… and the ship passes. To see at least once in your life, here are some of the best destinations to meet the whale shark !
Meet the whale shark in the Maldives
It's a bit of a fashionable destination, and it's not for nothing. You can see almost everything, from the smallest shrimp to the star manta ray, schools of colourful fish, turtles, sharks etc….. Breathtaking coral reefs over which a shadow passes. The whale shark is easily found, especially on the southern reefs of Ari Atoll.
When to see the whale shark in the Maldives: all year long !
Whale sharks in Mexico (Isla Mujeres)
Here is a destination that allows you to dive very differently from each other. On the Caribbean coast of Mexico, on the eastern side of the Yucatan Peninsula, Playa Del Carmen is a world-class diving destination. It is possible to do the classic Caribbean dives, but also to dive with bulldog sharks, or in the famous Cenotes. And every year, dozens (even hundreds!) of whale sharks gather nearby in Isla Mujeres, which can be seen by snorkeling. There are few places in the world where you will be able to observe so many in one day… in fact, it is the only one!
When to see the whale shark in Mexico: from June to the end of September.
Diving with whale sharks at Ningaloo reef (Western Australia)
The Ningaloo reefs are world-renowned for whale shark diving, but not only. Located on Australia's west coast, these coral reefs are about 300km long and are home to extraordinary wildlife. Whether diving or snorkeling, it is a real paradise where it is easy to meet sea turtles, mantas, dugongs or dolphins. Between March and April, we observe the laying of corals a few days after the full moon !
When to see the whale shark in Mexico: from May to July.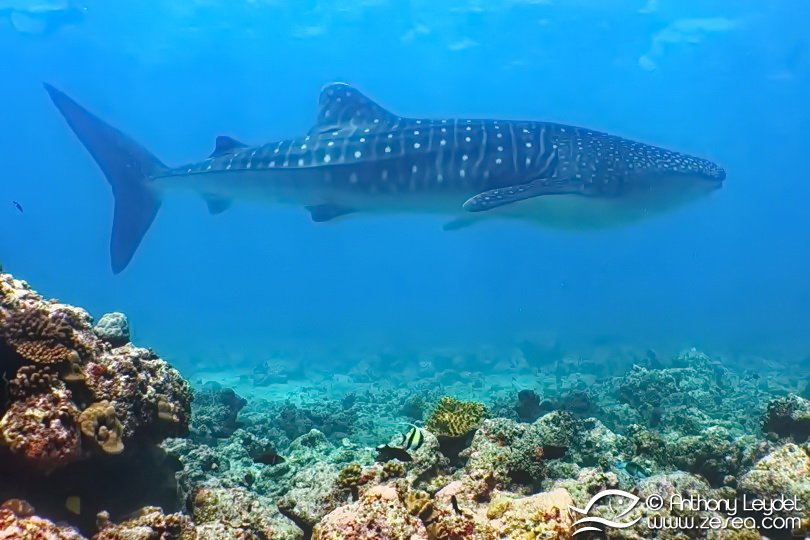 Meet the giant in Djibouti
Located in the extreme south of the Red Sea, Djibouti's waters are also frequented by the giant. But it is outside this area, in the Gulf of Tadjoura, that it is most suitable to observe the whale shark. In plankton laden waters, and therefore not always very clear, the pelagic is legion.
When to see the whale shark in Djibouti: from October to January.
The Sultanate of Oman is undoubtedly an extraordinary destination, with landscapes of incredible beauty. Under the surface you will find unique colours, with often green waters, which offer a unique contrast with purple gorgonians. The Daymaniyat Islands region in the north of the country is the easiest place to see them, as is the Musandam region.
When to see the whale shark in the Sultanate of Oman: from May to November.
Les Philippines (Sogod Bay)
The Philippines with 7107 islands represents a real paradise for diving and especially for organic and photo lovers. In the heart of the Coral Triangle, where marine biodiversity is the highest on the planet, macro enthusiasts get their money's worth and even more. But Philippine waters are also frequented by whale sharks, such as Sogod Bay. In the south of the island of Leyte, in the Visayas (central Philippines), it is here that you will have a good chance of meeting the giant…
When to see the whale shark in the Philippines at Sogod Bay: from November to May.
Madagascar (Nosy Be)
Located in the Mozambique Channel, the Malagasy island of Nosy Be (meaning "big island") is a great place to meet the giants of the marine world: you may go to see whale sharks… you will also meet humpback whales or manta rays!
When to see the whale shark in Nosy Be: from mid-September to January.
Galapagos
The Galapagos represent everything a diver who loves aquatic life can dream of. Following in Charles Darwin's footsteps, where he developed his theory of evolution, these islands were for him a real open-air laboratory. And it is in these waters rich in biodiversity that you will dive with the largest fish in the world where it abounds for a large part of the year…
When to see the whale shark in Galapagos: from June to November.
The whale shark in a few facts: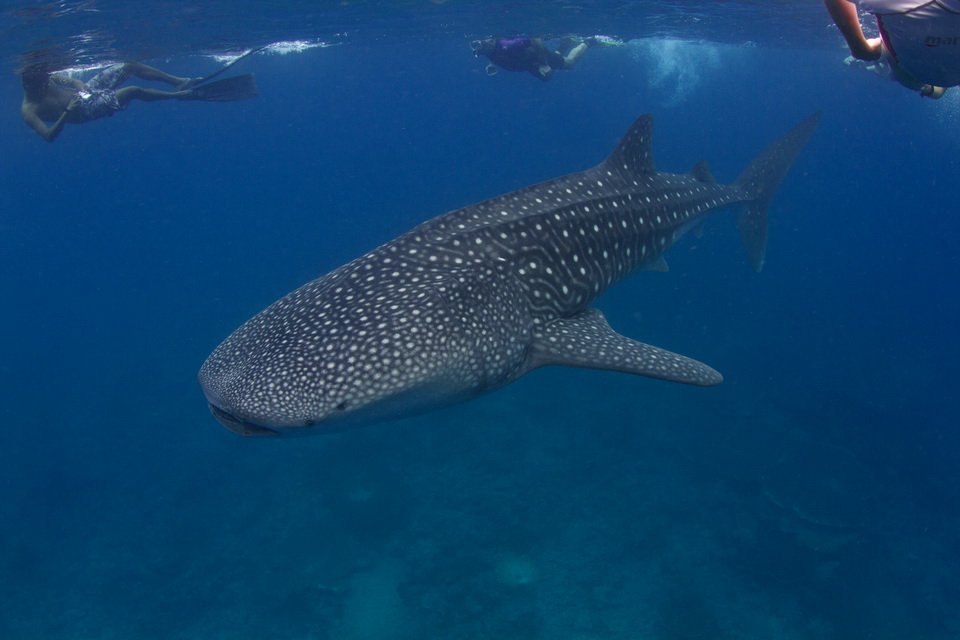 A shark or a whale ?
A SHARK. Its name comes simply from its colossal appearance and the way it feeds. Sharks are related to fish, while whales are mammals. A SHARK. Its name comes simply from its colossal appearance and the way it feeds. Sharks are related to fish, while whales are mammals.
Can they bite us or swallow us ?
NO! NO! Whale sharks have several thousand teeth… which look more like velcro than real teeth. They're really too small to inflict injury. As for whether they can unfortunately swallow a human being… impossible despite the size of their mouth, their esophagus is too small!
As big as a bus ?
Most adult whale sharks are about 10-12 metres long, roughly the size of a bus…. But the tallest individuals can reach 20 meters! And their weight reaches 34 tons.
Unique designs !
Each individual has large white dots on his skin that represent a kind of identity card. They are uniquely arranged from one individual to another, just like our fingerprints. With the photographs, scientists can identify each individual to study them.
A big eater
The whale shark is a big eater… but its food is composed exclusively of plankton! With its gills, which also serve as food, it can filter 1 mm particles.
Ovoviviparous
Like a number of large sharks, this giant is ovoviviparous. This means that the young come out of an egg while they are still inside the mother. They thus go out into the outside world after their real birth. When they begin their lives, the young are about 50cm long.
Endangered species
In 2016, after its populations had dropped by about 50% worldwide in recent decades, IUCN ranked the whale shark on the red list of endangered species.
And you, where did you meet this giant of the seas ?
NE LOUPEZ AUCUN ARTICLE !
En vous abonnant à la newsletter, vous recevrez uniquement un e-mail lorsqu'un nouvel article paraîtra !