Jordan is a small country in the Middle East that we don't hear much about. Yet it is a country with immense cultural and archaeological riches, including the famous Nabatean city of Petra. With only 25 km of coastline wedged between Israel and Saudi Arabia, Aqaba is Jordan's only port city, and offers a magnificent window on the Red Sea. Worth more than just a diversion, Aqaba offers divers an incredible experience with protected sites rich in life, but also a unique playground for wreck lovers ! Used to and in love with the Red Sea since I discovered it in 2010, I didn't resist for long when I received the invitation from my friend Catherine to come and discover diving in Aqaba! And the arrival in the sky near this part of the Red Sea filled me with emotions. So here I am in the south of Jordan, on this tiny portion that the country has on the Red Sea…
Why choose Jordan to dive in the Red Sea?
When you think of the Red Sea, the first thought that comes to mind is Egypt for scuba diving. It is a must ! The diving economy is so well developed that it is possible to dive as much as you want and at any price. Less known, Jordan has the great privilege of being much less frequented. Few people on the beaches and in the diving centers, hardly any boats in the sea, and on the sites it is rather rare to have 2 diving boats in the same place ! So there is no need to rush to go diving. A real feeling of calm and serenity every day before, during and after the dives.
Diving in Aqaba, Jordan, is also the opportunity to choose a beautiful destination to share with family, friends or even alone, and to combine diving and tourist sites such as the famous and marvellous city of Petra, the Dead Sea or of course the desert of Wadi Rum, scenery of many films such as Indiana Jones or The Martian !
How is diving in Aqaba?
Situated at the end of the 160km long Gulf of Aqaba, the city of Aqaba, although subject to the winds, has a well sheltered seabed, with little exposure to currents and swell. All along the 25 km coastline, there are more than thirty diving sites, most of which are accessible to beginners or less experienced divers. Here, you don't come looking for depth or technical dives. Don't look for a dive cruise, there aren't any ! In Aqaba, you can dive for the day either by boat or from the shore, as the vast majority of sites are very close to the coast.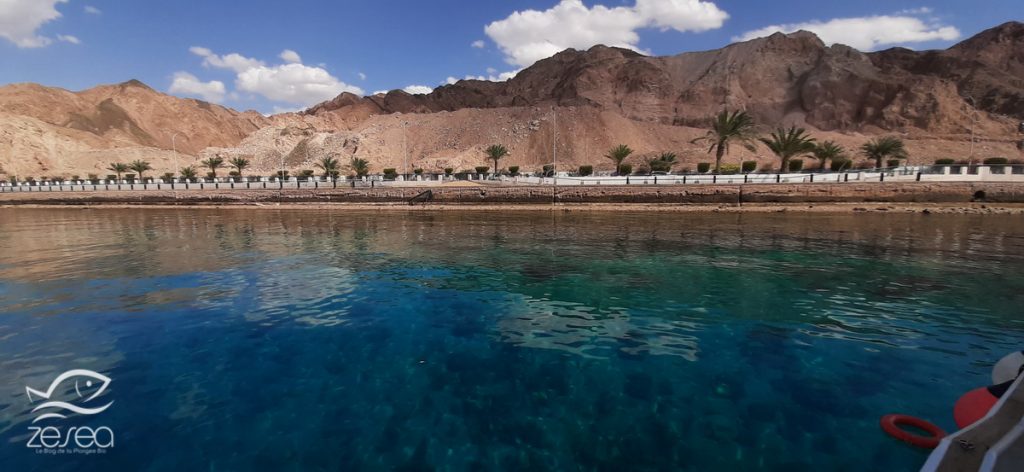 Coral gardens and marine life oases
Below the surface there is typical Red Sea fauna, the bottom is largely sandy with many coral oases that attract a lot of life. The reefs are less large and developed than the known sites in Egypt, but there is an abundance of life.
Starting with the house reef of the Deep Blue Dive Center with whom we dive. A few dozen meters to go to get your feet in the water and discover in a few strokes of the fins the numerous species that populate each coral patch that scatters the bottom. Photographers and bio lovers will be delighted with this type of diving. Shallow, calm waters and no (or very weak) current, the marine life scrolls before our eyes. A magnificent site to do and do again, where you will discover a multitude of subjects perfect for macro photography.
Every nook and cranny of the coral islets is home to fish. Among them are some incredibly beautiful species. The boxfish, diodon, clownfish and lionfish are particularly well represented.
If you take a look deeper into the reef, or even into the seaweed beds or algae, you will also find many invertebrates:
Not far from this beautiful beach of Tala Bay, there are two very interesting jetties: Yellowstone and Berenice.
In addition to the beautiful play of light offered by the submerged parts of these jetties, the concrete pillars are well covered with algae and fixed fauna. They are home to some emblematic species such as the superb frogfish !
Power Station is one of the most beautiful sites in Aqaba. With a remarkable coral cover, it is above all the only real drop off to be found there. And what a drop off ! Diving to a depth of about 200m, it is vertiginous and well colonised with soft corals, black coral, anemones etc… When we go up on the plateau, we discover a superb coral garden punctuated with numerous yellow salad corals. We end up in a few meters at the foot of the fringing reef which forms a small drop off of 3 or 4m high…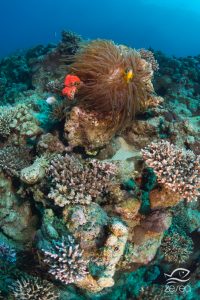 Deep Blue Dive Center, 5* dive center south of Tala Bay in Aqaba
What could be better than a professional, clean, friendly dive centre on a beautiful, quiet beach facing the Gulf of Aqaba and the Sinai for a pleasant stay? That's exactly what you'll find when you come to dive in Aqaba with the Deep Blue Dive Center.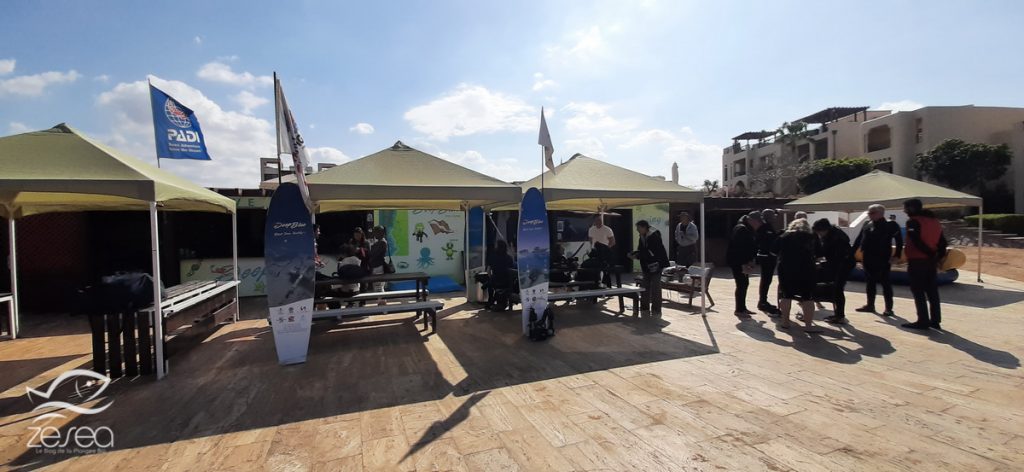 Deep Blue is a 5* PADI center where you will find a very friendly, stress free atmosphere and a great desire to make their divers happy by offering them the best possible diving experience in Aqaba. Fully Scubapro equipped with diving gears in excellent condition, all you have to do is let them guide you, whether you are a beginner or an experienced diver, they will adapt to your level and expectations. And if you still have any doubts, take a look at the center's TripAdvisor page !
Diving in Aqaba… for wreck lovers !
The seabed of Aqaba now attracts divers from all over the world, who come to explore the many wrecks to be found there. With fewer coral reefs than neighbouring Egypt, the Jordanian authorities have decided to boost diving tourism in recent years. Under the aegis of King Abdullah II of Jordan, a keen diver, many wrecks have been created in the depths of Aqaba…
C-130 and TriStar, two impressive aircraft 20m below the surface !
Other sensational dives include two aeroplane wrecks that offer all levels of divers an extraordinary immersion.
Starting with the Hercules C-130 transport aircraft which was sunk in 2017 on an easily accessible sandy bottom at about 18m. Unfortunately, a rare storm with high winds broke the plane in March 2020. This Hercules now lies in pieces, which ultimately adds a tragic feel to the wreckage, giving the impression of a crash. The wreck remains an excellent dive site, rich in marine life and soft corals, with for example the cockpit very accessible and full of glassfish !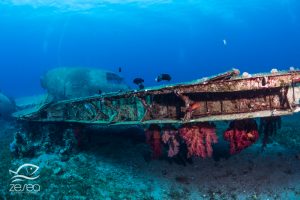 Once you have visited the wreck, you will slowly make your way up along a beautiful coral reef full of life, called Seven Sisters, before arriving at a sand tray at a depth of 5m, on which the Tank M42 rests. This dive site is ideal for beginners and snorkelers and is also easily accessible from the shore. It is a former US anti-aircraft tank which is now largely populated by small corals and numerous fish.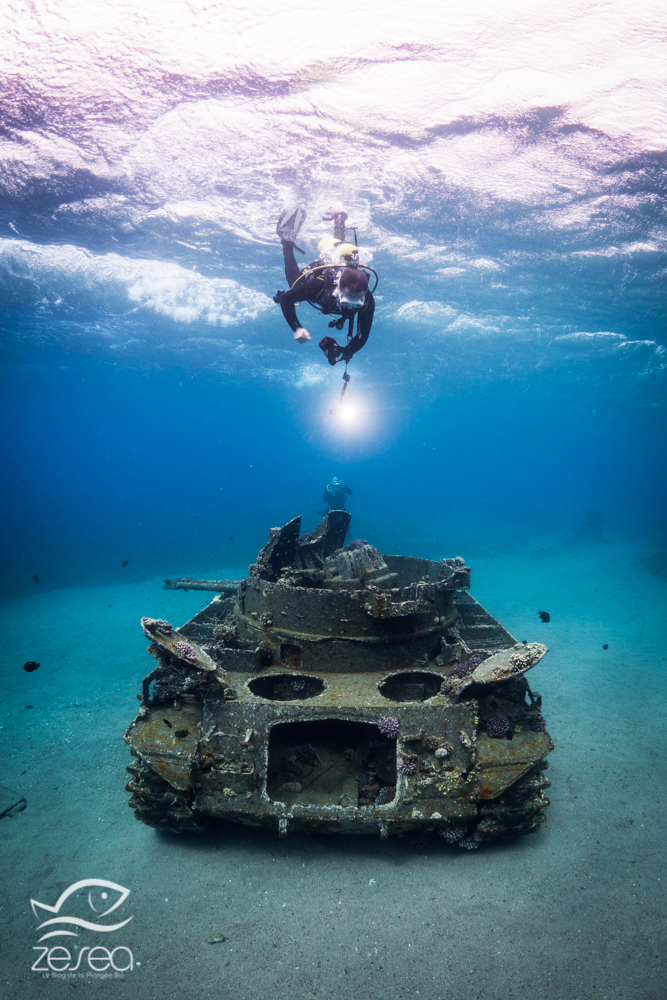 The second, even more impressive and imposing aircraft is the TriStar. It is an American long-haul aircraft with three engines. Sunk in 2019 on a sandy bottom devoid of coral, at its deepest point of about 27m, the plane is still relatively uncolonised, apart from a few fish that wander around inside. But what a pleasure to explore this unusual wreck. Easy because all the doors have been removed, as well as the middle row of seats to allow easy access to the interior. You can visit the cockpit, and even slip safely into the back to emerge through the air intake of the third engine which has been removed. In a few years, it is likely that this wreck will be all the more interesting when life is well established.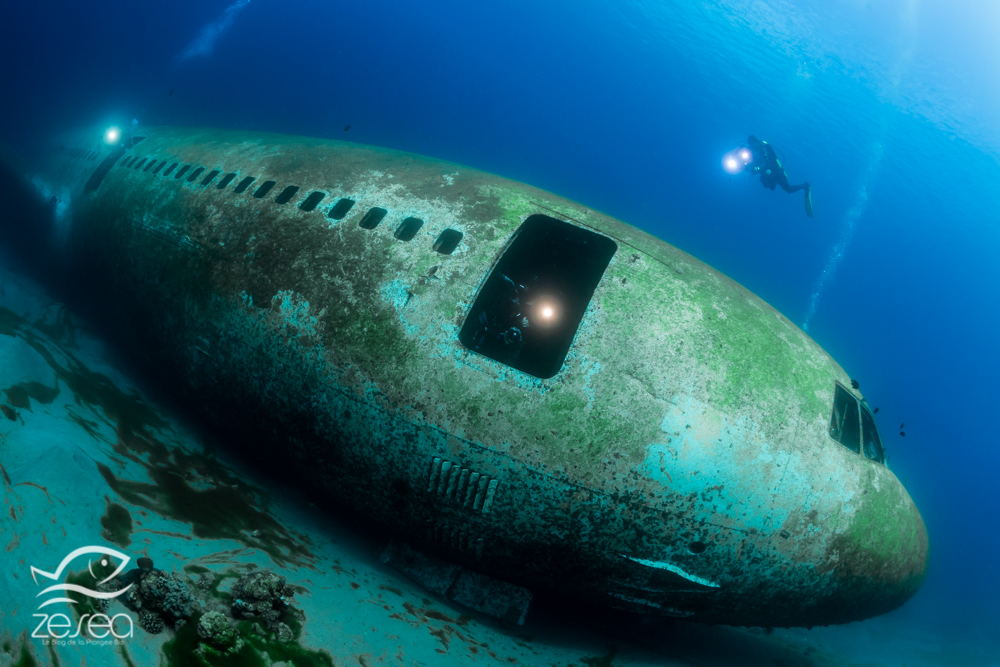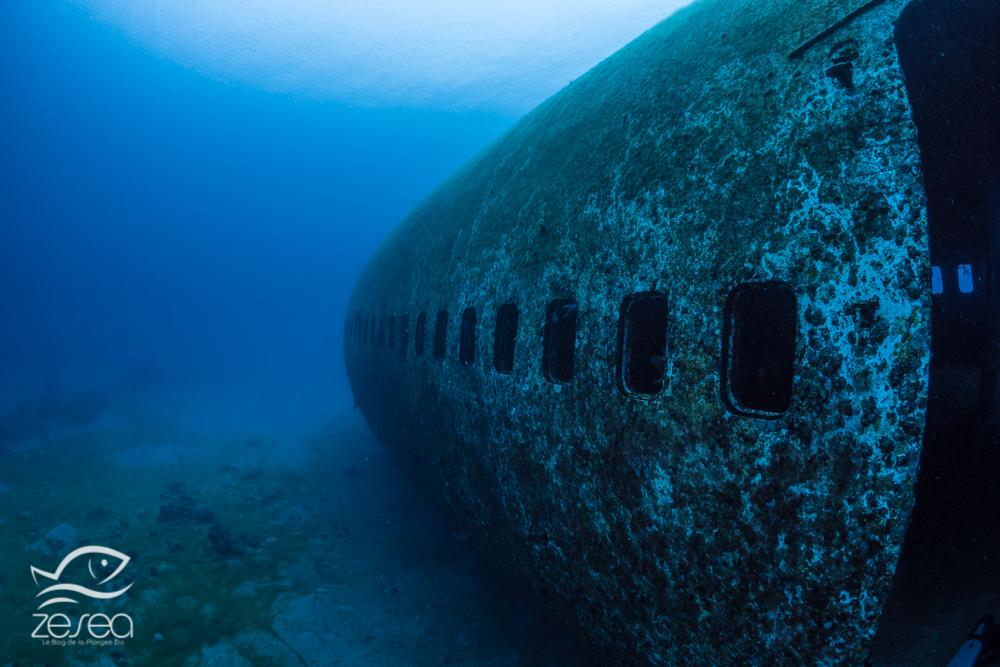 Majestic Cedar Pride, one of the most beautiful wrecks in the Red Sea
If the name doesn't ring a bell, the Cedar Pride is considered one of the most beautiful wrecks in the Red Sea. While the ship was in the Gulf of Aqaba, a major fire broke out on board in 1982. Left abandoned in the port of Aqaba, King Hussein of Jordan decided to sink it to create an artificial reef in 1985. Nearly 40 years later, Cedar Pride, which sits on two rocks on either side of a small canyon, on a 27m depth, has become a simply spectacular dive site, with lush marine life! Soft corals give colour, hard corals cover the wreck everywhere, hatchetfish form schools inside, where it is quite possible to swim around safely.
Diving in Aqaba: the Military Underwater Museum, unique in the world!
The highlight of wreck diving in Aqaba, the Military Underwater Museum is a sensational discovery accessible to all levels of divers. The only one of its kind in the world, this museum is made up of 21 aircraft, which will open in 2019. Helicopters, tanks, troop carriers, ambulances, jeeps, guns, follow one another in tactical position, giving the impression of a convoy advancing at the bottom of the water… Situated between 5 and 27 metres deep, this vast site is accessible even for snorkelling.
I will tell you more soon in a second article on Aqaba dedicated to this unusual underwater museum…
Stay tuned !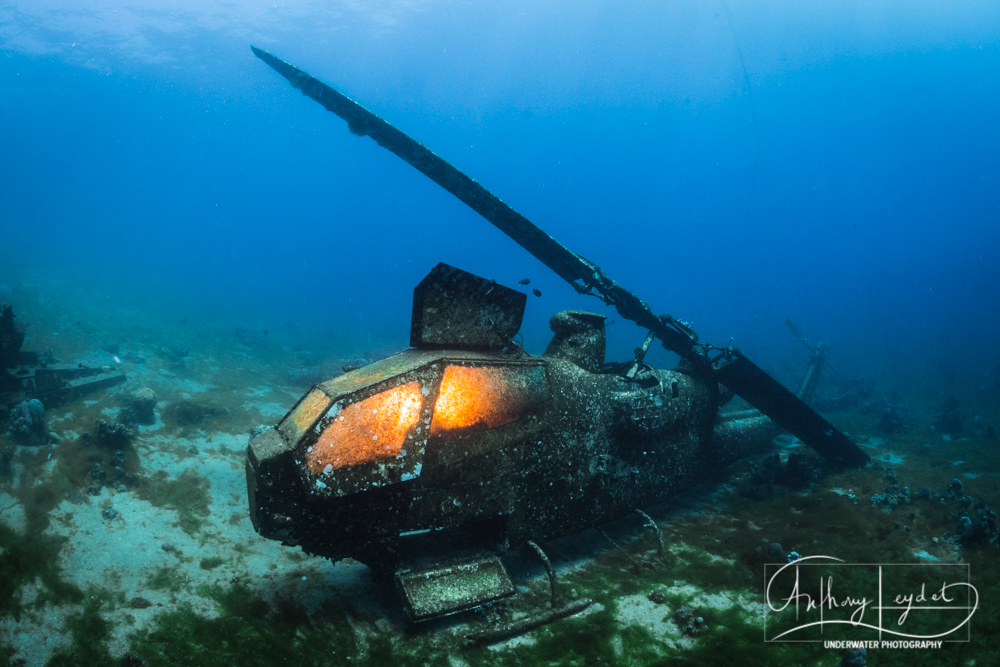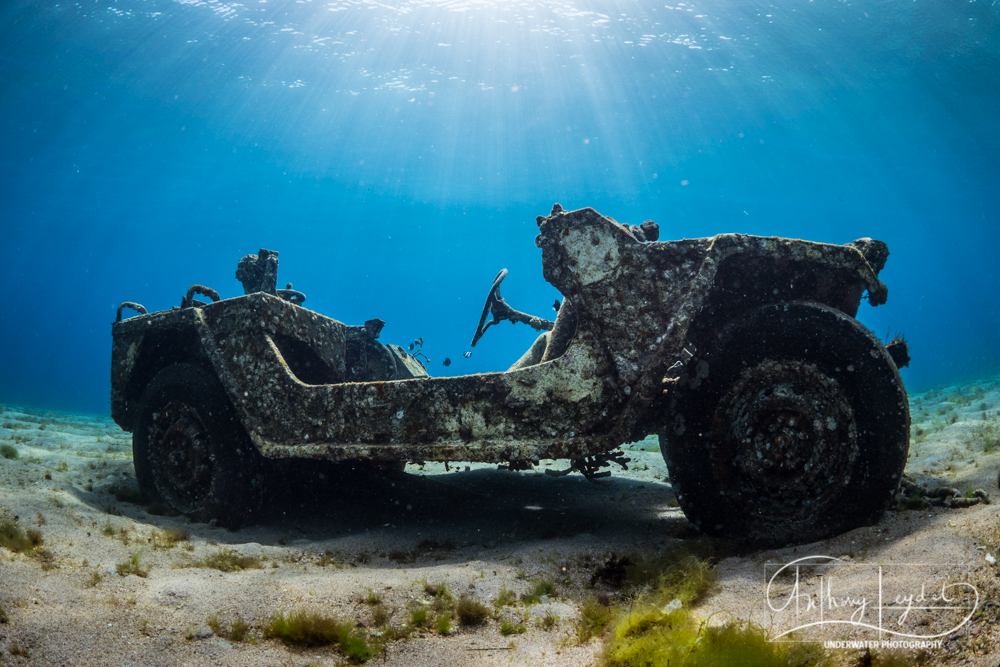 Some nice addresses in Aqaba
Aqaba is a nice and pleasant seaside resort, where it is easy to walk during the day as well as at night. Don't hesitate to go and eat in some of the nice restaurants in the city centre: Captain for fresh grilled fish, Alshinawi for traditional Jordanian food, or Papaya !
In terms of hotels, you could consider staying at the Marina Plaza Hotal, Grand Tala Bay resort, Lacosta Hotel, Hilton hotel, or opt for something simpler but quite comfortable at the Taj Hotel.
Practical information for your stay in Jordan
Diving conditions: The currents are very weak in Aqaba. The water varies between 21° and 28°. Beware in summer, the sun is very intense and hot.
Water visibility: good to very good visibility 30m+.
Hyperbaric chamber: located at the Government Hospital in Aqaba
Formalities for travelling to Jordan: Currently it is necessary to fill in a form in order to obtain a compulsory QR Code to be presented upon arrival in Jordan.
For more convenience and savings, the JORDAN PASS, to be purchased online, allows you to obtain a visa as well as entry to a large majority of the country's tourist sites (in particular PETRA and the Wadi Rum desert).
NE LOUPEZ AUCUN ARTICLE !
En vous abonnant à la newsletter, vous recevrez uniquement un e-mail lorsqu'un nouvel article paraîtra !