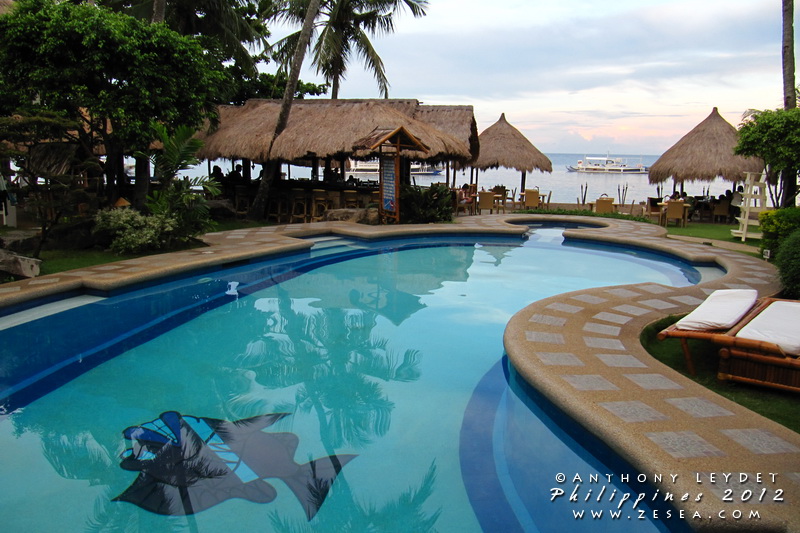 Change of scenery for the second part of the trip in the region of the Visayas of Philippines. After one week of pure bliss with coral reefs of Cabilao, here we are on the island of Negros, near the city of Dumaguete. We put our diving bags in Dauin at Pura Vida Beach and Dive Resort …
And it is always by the sea that we come on board of a  Sea Explorers's banka, stamped with the famous "Dive with a smile"! After 2 hours and a half sailing from Balicasag, we tread the black sand of Dauin, and are greeted with a cocktail and fresh fruit, near the pool.
The resort  the dive center are much larger here than Cabilao, and can accommodate up to sixty divers. But everything is superbly organized and you'll never feel breathless !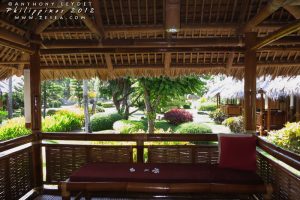 The Pura Vida is spacious: a main building with the dive center bottom, and a large covered terrace on the first floor where every morning the divers come to have breakfast with a beautiful view of the sea. The restaurant and bar are located in front of the beach, and a lovely pool to chill "version fresh water", and is also used for diving lessons.
The rooms and bungalows are located facing the sea or in the middle of a tropical garden of coconut palms and frangipani with the falling flowers every day just waiting to be picked. The bungalows are all built of varnished bamboo (except the bathroom) and are much more authentic than the rooms built in "hard", but more luxurious. Some little animals will certainly attract your attention, at nightfall, when you'll walk on the lawns of Pura Vida. You will certainly meet many frogs, motionless like statues. And of course you will not miss the famous geckos (not the dive computer, the real ones ! ) You'll hear them all day … and night!
Side of the dive center, the Sea Explorers PADI 5 * Dive Center is organized the same way as Cabilao, but bigger : many rinsing tanks (suits, BCD, boots, masks, regulators, cameras, …), two large lockers to store personal boxes, suits and BCD, a large whiteboard with the schedule and the possibilité to register for upcoming dives, and of course a team of guides always smiling and that adapts to each request ! You will find fresh fruit back from each dive. The center has four large bankas which I was already an apology in the article on Cabilao !
Here are some pictures that will maybe give you want to see for yourself :
In the next article, I'll take you diving!
If you want to dive with Sea Explorers:
NE LOUPEZ AUCUN ARTICLE !
En vous abonnant à la newsletter, vous recevrez uniquement un e-mail lorsqu'un nouvel article paraîtra !