After Cabilao, Balicasag and Dauin, I will end talking about my trip in the Philippines, by this small island which makes you feel like a pirate arriving on a desert island ! A 30min boat ride from the Pura Vida Dauin, Apo Island is a real hotspot for diving in the area and deserves its worldwide recognition!

We leave the beach early in the Pura Vida, on board the Island Explorer, the great banka scheduled for safaris, one day trip and transfers. Let's go to Apo Island ! The volcanic island surrounded by turquoise waters and covered by dense vegetation, welcomes us half an hour later. We spend the day in these waters teeming with life to do three dives.
There are a multitude of diving spots around Apo. The big difference with the diving in Dauin is coral reefs that cover a large portion of the seabeds. There are also environments similar to Cabilao dives. Coral gardens of sight, with an impressive number of species of coral ! And of course all the associated fauna.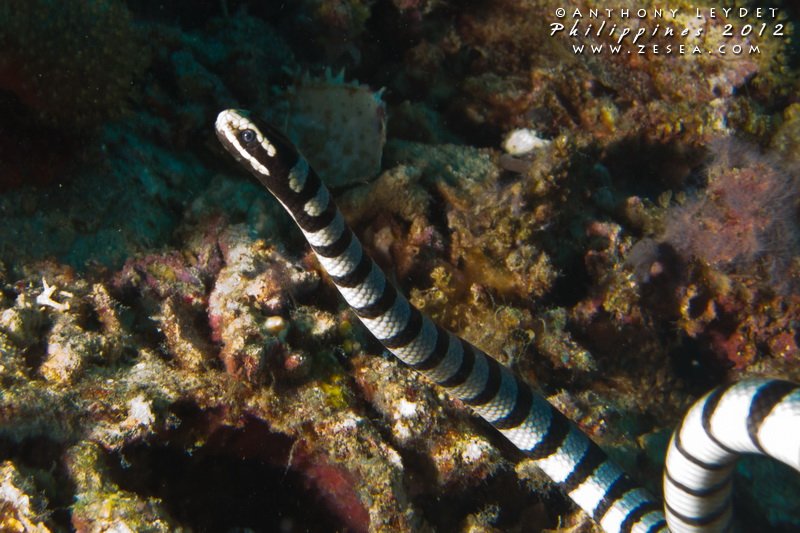 One of the curiosities of the place, is the abundance of banded sea snakes  (striped black and white), will accompany you in all your dives almost here ! While producing one of the most powerfull venom in the animal kingdom (and lethal to humans), you have nothing to fear : the diver is not part of his diet, and it would be bothered to bite you with its tiny mouth. It seems that it could bite us only between the fingers …
Many turtles cross the waters of Apo. I might even get to see one of them scratching on soft corals to clean its carapace ! You will usually see them sitting in the middle of coral …
And then the great guides of Sea Explorers certainly take you to the site of Largahan to attend an unusual show  underwater: due to the volcanic origin of the place, thousands of bubbles escaping from the sand and charge straight the surface. This gives the impression of diving in champagne!
Before the pictures, here's a video (remember to put it in HD) with footage filmed during the day:
And now, some pictures!
If you want to dive in Apo Island : 
NE LOUPEZ AUCUN ARTICLE !
En vous abonnant à la newsletter, vous recevrez uniquement un e-mail lorsqu'un nouvel article paraîtra !