After presenting you the little paradise that is Cabilao in the previous article , we come to the heart of the matter! Because when you come here, it's for one thing in priority: scuba diving in the Philippines. Or a big need of rest and quiet ! I knew we'd find beautiful seabed in coming here. I was wrong … it's just amazing, including coral reefs in great shape !

Wading, from the first day we arrived, in front of the Cabilao Beach Club, just to relax a bit after this long journey, I realized quickly that we would find wonders during our dives. But it was a little forgetting that we were in the Coral Triangle, the area which houses the world's largest marine biodiversity : 30% of all coral reefs in the world, the 3/4 coral species that can construct reef, more than 35% of species of reef fish … no less!
The dive center: The Cabilao Sea Explorers dive center
Sea Explorers is a dive operator in the Philippines, and has four dive centers (Cabilao, Malapascua in Cebu, Negros Dauin on, and Alona Beach on Bohol). The center has all the comforts expected by divers: rinsing tanks (including the photographic and video equipment), racks for suits, BCD and boots, boxes for storing personal stuff, especially a staff really attentive and always smiling ! Besides, i really appreciated to see that staff is composed mostly of Filipinos, and here, Cabilao, including dive guides. And really good at identifying small creatures that divers came to see! A point which I think is important because by coming here, you will directly contribute to the economy of the island ! (Often, the centers employ  French, German, American or Australian divemasters…)
The dive boats
When you arrive in the Philippines, the disorientation occurs very rapidly. The climate, atmosphere, friendly people, etc. … You will also be disoriented in the water when you get up on these great bankas diving ! Quite surprising at first, these large canoes typically filipino prove perfectly adapted for diving. Spacious, comfortable, they have all the equipment on board to make life easier for divers: storage, locations for blocks, toilets, launching platforms and  a scale on each side that go down into the water and allows go up smoothly and effortlessly !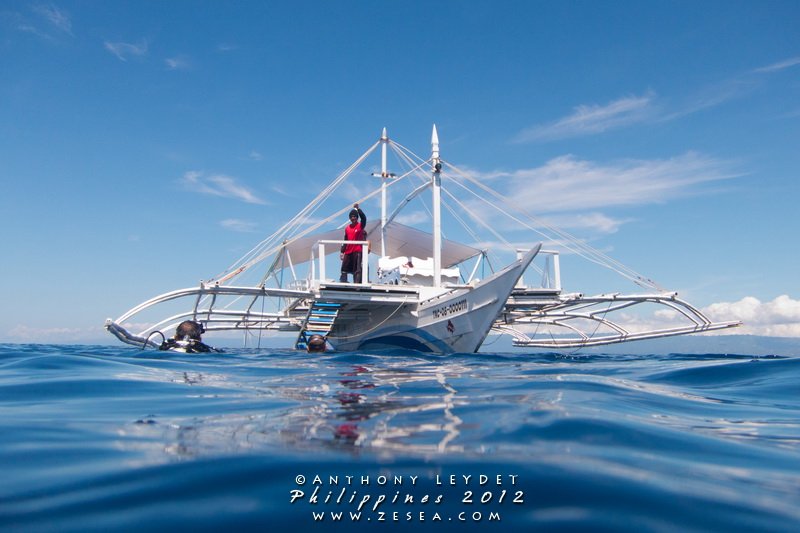 The dives
The small island of Cabilao, about 8km ², forms a plateau. It is surrounded by cliffs (10-15m tall) that often plunges directly into the water or sometimes on a white sand beach. The island is surrounded by a sandy plateau, covered with corals, and seagrass. Then, a slope gently down to the wall surrounding the island also.
Regarding the dives, there are more than fifteen very good spots around Cabilao. Most have similar profiles: it usually start  along a wall where there is a profusion of coral, sea fans, sponges and all the associated fauna. And then we go back up by the slope, to finish the dive on the plateau, generally 5-6m deep under the boat. And finally this is where we spend most of time: a coral garden, or a herbarium, life abounds everywhere! And dives are (almost) unlimited time. The guides will ask you to keep 30bars in the tanks by security. We can therefore easily make 70 to 90min dives !
Wildlife aside, divers who like to observe life will be in heaven ! Certainly there are very few "big", but that's not why people come here. A few trevally, tuna, turtles will still pass … For cons, looking in every part of the coral, in sponges, in crinoids, and sea fans ! And there, you will surely find many species of shrimps, nudibranchs, crabs, fish, not to mention the stars of the region, pygmy seahorses! Other surprises await divers, especially in the sunset, since it is the best time to observe the famous mandarin fish. It's a true moment of happiness to see these little fish, wearing their colorful dress, rising above the reef to mate, leaving only a few seconds to observe!
Some diving spots of Cabilao island :
Current view : This site can be done by drift dive. We flew a beautiful garden of soft corals (coral broccoli) at  thirty meters deep max where we met a school of jacks, some squid and a turtle. The end of the dive is on the plateau with seagrass and corals in shallow water.
Fallen tree : a beautiful plateau with gently sloping sand bottom and potatoes of many corals. There are lots of nudibranchs. Arrives on a slope falling on which we can observe the pygmy seahorse Hippocampus denise .
Gorgonian wall : perhaps THE most beautiful diving site of Cabilao! The dive is made ​​about 25m along on a beautiful wall which as its name suggests, large sea fans are waiting you ! It is possible to observe several species of  ghostpipe fishes, and Hippocampus denise. The end of the dive reserve you a real aquarium in a few meters of water where no one knows where to look so life abounds !
Lighthouse dive on a slope covered with seagrass and corals. We see as many species like Hippocampus bargibanti, but also frogfish.
South Point : this is a dive quite different from the others, with a wall that starts at about 10m to 30m to finish on a flat sandy bottom. This is usually pretty dark due to exposure of the wall. This is interspersed with large vertical breaks, and where small caves are inhabited by numerous groupers and black coral.
Talisay pier : this is where you will meet the mandarin fish at sunset !
Bamboo Reef : 500m from the beach of the center ! A wall with a beautiful sea fans, antipatharians (corals "whip"), sponges … The dive is finished on the house reef in front of the center.
The dives are accessible from level 1 (or Open Water) for the most part. No particular difficulty, the current is generally very low (except on Current View). It will still manage its buoyancy in order to avoid breaking the corals, that are really everywhere !
Here are some pictures from our underwater meetings ! A small sample because I will publish soon about the amazing wildlife that we can find while diving in the Philippines !
In the next article, change of scenery … Direction to Dauin on Negros Island, with a stop on the island of Balicasag !
NE LOUPEZ AUCUN ARTICLE !
En vous abonnant à la newsletter, vous recevrez uniquement un e-mail lorsqu'un nouvel article paraîtra !